Last month the National Milk Producers Federation held its 2022 Annual Meeting in Denver, CO. One of the highlights of the event is the Championship Cheese Contest where Ellsworth Cooperative Creamery took top honors! We were awarded the coveted Chairman's Trophy for our Antonella Pepperoni and Marinara, recognizing our cooperative for producing the best cheese in the nationwide competition. What makes this award even more special is that this cheese was produced in our new Menomonie facility!
The judges were impressed with the flavor of the cheese which they found to be the perfect balance of cheese, pepperoni, marinara, and herbs. They also remarked on the technique, commenting on the difficulty of infusing meat into cheese and not having technical openings in the final product.
"It was satisfying and rewarding to see the awards table filled with Ellsworth Cooperative Creamery value-added cheeses produced at all of our locations! These awards are a true testament to our quality milk, skilled team members, and the process we've worked so hard to develop to produce some outstanding cheeses." 
Paul Bauer, Ellsworth Cooperative Creamery CEO/General Manager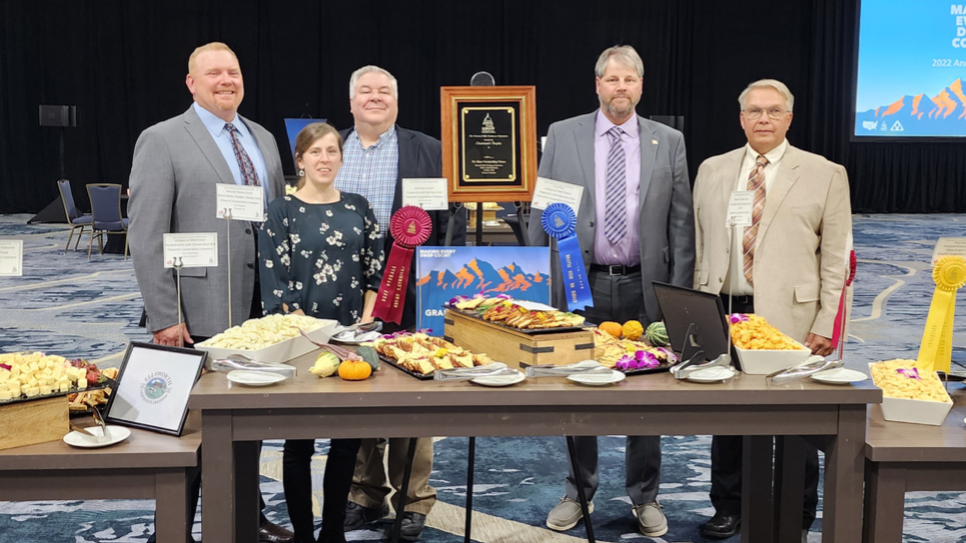 Each of our production facilities were represented among the top awards at the contest. Our cheese curds swept the Natural Cheese Snack category, and according to an insider, our Dill Pickle Cheese Curds were also a close contender for the Chairman's Trophy.
Unique or Mild Flavor
First Place: Antonella Pepperoni & Marinara
Second Place: Antonella Garden Vegetable with Sweet Basil
Natural Cheese Snack
First Place: Natural Dill Pickle Cheddar Cheese Curds
Second Place: Natural Hickory Bacon Cheddar Cheese Curds
Third Place: Natural Cheddar Cheese Curds
Processed American Plain
Third Place: White EZ Melt Loaf
The National Milk Producers Federation is comprised of a majority of the dairy cooperatives in the United States with its members marketing more than two-thirds of the U.S. milk supply. The contest is a competitive one, with the best producers across the US entering products and vying for top honors. This year there were a total of 216 cheese and yogurt entries.
WisBusiness reported on the awards. You can see the full article here.
https://www.ellsworthcheese.com/wp-content/uploads/2022/11/20221025_165824-Edited.png
543
966
Ellsworth
https://www.ellsworthcheese.com/wp-content/uploads/2017/01/ec-logo3.png
Ellsworth
2022-11-02 12:24:15
2022-11-02 13:54:39
Best Cheese in Contest at NMPF Championship Cheese Contest