As we begin the New Year, let us take a moment to briefly reflect on 2022.
The biggest and most notable accomplishment of the year was the startup of the Menomonie location. We started our first test batch of cheeses in February and began to move product in late March. Producing quality product out of a new plant requires patience and some trial and error. From experience, I know it can take a year before production and quality are right. I'm pleased with how things are progressing.
One challenge was that we didn't have as many employees transfer from Comstock to the new production facility as we expected. However, we had great success hiring skilled staff for the Menomonie location. Our presence in Menomonie has been well received and the community has been supportive and welcoming.
We continue to be challenged by lingering Covid supply chain issues. Supplies that normally would be easily and quickly sourced in the past are much more difficult to find today. This impacts production at all the plants, making it difficult to achieve the level of production and efficiency we would like to see. One example of such an item is metal springs, which are now extremely difficult to find. There are millions of springs needed to construct an efficiently operating new production facility.
Despite the challenges, we continue to make progress in Menomonie. We are running more milk than we had out of the Comstock facility. We continue to work with our team and expand our skillsets so we can continue to increase production and quality. In addition to cheese production, we transferred all cut and wrap to the Menomonie location, which was another learning curve for our crew.
The Menomonie retail store has been a success and those who have visited offer positive feedback. The store looks fantastic–open, bright, and spacious with fun and decorative elements that fit our organization's personality. The location makes visitors smile. We continue to implement strategies to increase visitor count and retail sales. We have a great team in place there that offers consistent hospitality, and we are now working to build our reputation in this new market and establish the store as a destination, just as we did with our Ellsworth location.
In our New London processed cheese plant we set several records in 2022, the first being in production. The team did a great job of getting 41 million pounds made, which is 15 million more than 2018. New London is now making about 57% more cheese than when we first purchased the location. We are looking to add some key pieces of equipment to allow the plant to function even better in 2023 with additional capacity and less strain on our employees. The plant continues to play a key role in adding value-added cheese capacity and profit to the creamery.
It was another big year for our Ellsworth location. However, we continue to be hampered by restrictions on supplies, particularly CO2. We are installing additional storage on-site to allow us to meet our cheese curd demand while avoiding running short in the future. Despite this, we were still able to increase cheese curd sales by 15% in 2022.
Our crew continues to battle different aspects of cheesemaking that are causing disruptions. We are adding processes and equipment to more adequately handle disruptions so we can better process wastewater. Moving the cut and wrap to Menomonie offered efficiencies that allowed us to add more retail customers for 2023. Being more efficient is important and we continue to look for ways to add and supplement our system for better operations in the future.
We continue our process of transitioning ownership of our Comstock Facility to Hastings Creamery and have been working closely with them to ensure the transition is a smooth one. Our strategy here is two-fold: We would like to see the Comstock location continue its legacy of cheesemaking and thrive in the community, and by having an additional line of value-added cheeses available to our sales team we can better position the creamery as our customers first choice in new cheeses. This is why we're working with Hastings Creamery to not only provide a successful transition of the facility but to also support them in introducing their product to a new market.
As we look to 2023 our focus is on growing sales across all locations with key vendors, as well as taking on some new cheese curd retail volume with exciting new retail partners. Our team is looking forward to the opportunities the New Year will bring.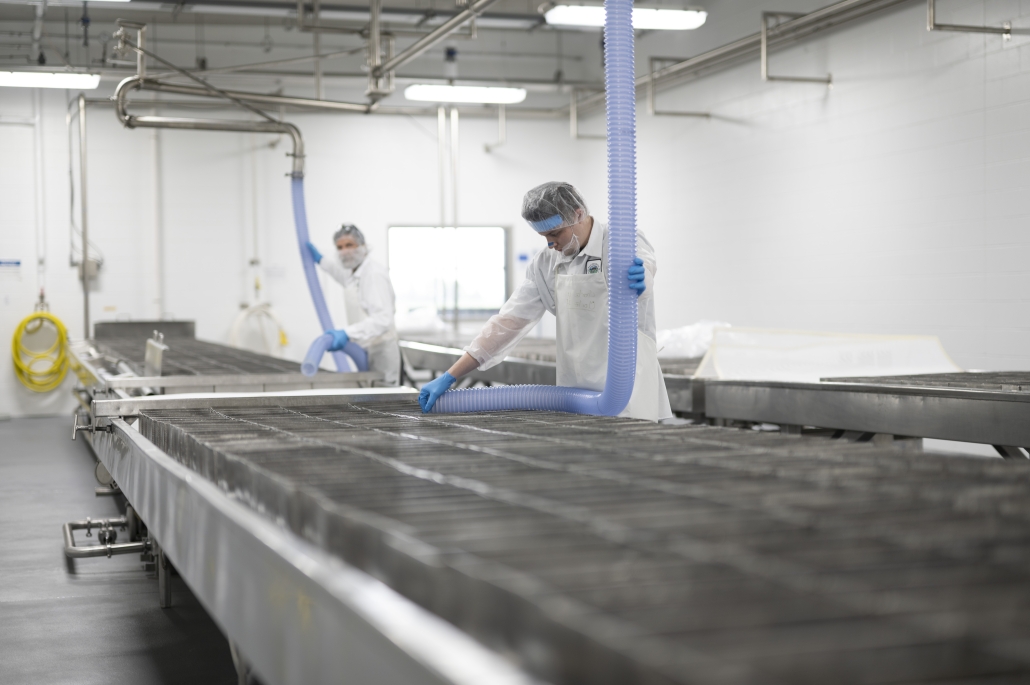 https://www.ellsworthcheese.com/wp-content/uploads/2023/01/20220607_ec_0140-scaled.jpg
1703
2560
Ellsworth
https://www.ellsworthcheese.com/wp-content/uploads/2017/01/ec-logo3.png
Ellsworth
2023-01-17 11:02:35
2023-01-17 11:02:35
A 2022 Recap from the CEO