Cheese to the Rescue: Top Five Reasons Why Cheese Curds Make the Perfect Kids' Snack
September 5, 2016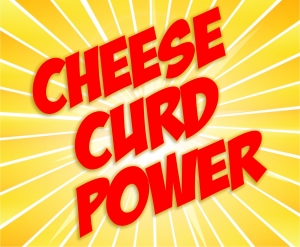 If you're like most parents, you're always on the lookout for healthy and portable snacks for the kids (and yourself), and that's where cheese curds can come to your rescue! Here are the top five reasons why cheese curds make the perfect family-friendly snack.
5. They're fun. Whether you're a kid (or just a kid at heart), it's hard to resist that funny squeaking sound! Plus, they're practically bite-size, and for variety are available in five fun flavors (sometimes more at our retail stores)!
4. They're convenient. You'll find our cheese curds available in 4-5 oz. resealable, zip lock bags. For even smaller portions, divide them up into individual size baggies or travel containers. While you'll find cheese curds in your grocer's refrigerator dairy or deli case, you need not be concerned if your cheese curds are in a sport bag or backpack for a few hours at room temperature; that just increases the squeak factor! Just think no more coolers!
3. They're portable. Why does it seem like the kids' favorite snacks are sticky, gooey or crumbly? Cleaning up the kids and the car after snacking… ain't nobody got time for that! When you're snacking on the go, you'll love the cleanliness of the curd… they truly are grab-and-go!
2. They're nutritious. You'll be happy to know our natural cheese curds have zero sugar, zero carbs, zero gluten*, zero colors and are high in protein, healthy fats, and flavor. Whether you need to power up the body, or your brain, cheese curds are the perfect snack for studying and sports practice.   *Some varieties of flavored cheese curds may contain gluten. Please read the ingredient label carefully.
1. They taste great! Let's face it; if kids don't like it, they're not going to eat it. Taste is important, and with many great flavors to choose from, every member of your family will find a favorite. From natural to Cajun, ranch to taco, we're confident you'll find a cheese curd flavor to satisfy your family's every snack craving.
Remember, when it comes to cheese curds, you want the best… Ellsworth Cooperative Creamery brand, made in the Cheese Curd Capital of Wisconsin. When you visit your local grocer, ask for them by name.