We've Been Nominated!
January 28, 2015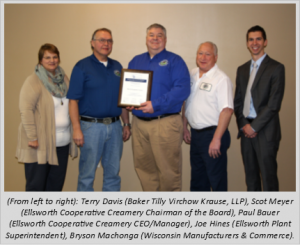 We were honored and proud to receive a visit today from Bryson Machonga, representing Wisconsin Manufacturers & Commerce. He presented our CEO/Manager, Paul Bauer, with a plaque acknowledging Ellsworth Cooperative Creamery's nomination for Wisconsin Manufacturer of the Year.
It's all very exciting and especially timely for our Cooperative. While the product we manufacture has remained consistent for the past 50 years, the strategy for bringing the product to market has shifted considerably. Over the past six years we've began transitioning away from the commodities market to instead focus on building a brand consumers recognize for quality and value.
No longer just known by dairy insiders for our milk powder and barrel cheese, consumers now recognize the Ellsworth Cooperative Creamery brand for our value added consumables, like our flavored cheese curds in their colorful retail packaging, and other specialty cheeses under the Blasers, Antonella, Kammerude and Ellsworth Valley labels. Restaurant owners tell us that individuals ask for our cheese curds by name when they visit their establishments!
Wish us luck! We're up against some stiff competition as our state's manufacturers are well-known for their ingenuity and ambition. We won't know if we've actually earned an award until the Wisconsin Manufacturers & Commerce awards ceremony on February 26, but Gladys and Florence have their hooves crossed! If you're interested in knowing more about the award, read on to see the news release which is being published by various Wisconsin media outlets. And be sure to keep an eye on our Facebook page. If we're fortunate enough to be named a winner, you'll be among the first to know!
————————————————————————————————————————————————————–
Ellsworth Cooperative Creamery Receives Manufacturer of the Year (MOTY) Award Nomination
Ellsworth, WI—January 28, 2015—Ellsworth Cooperative Creamery, a 450 member dairy cooperative and manufacturer of premium cheddar cheese curds and specialty cheeses,  has been nominated for the 27th Annual Wisconsin Manufacturer of the Year Awards (MOTY). Ellsworth Cooperative Creamery is one of eleven Wisconsin businesses nominated for the Grand Award in the medium size manufacture category.
The MOTY Awards recognize a diverse array of manufacturers of all sizes and sectors of the economy for their paramount economic contributions to the great state of Wisconsin. A total of five Grand Award winners will be chosen: four in categories based on company size, and one for being an exceptional example to all in inventing and implementing innovative workforce development best practices. Each nominee is evaluated in areas such as financial growth or consistency, technological advances, product development, environmental solutions, operation excellence/continuous improvement, commitment to employees, and effective research and development.
Founded in Ellsworth in 1910, Ellsworth Cooperative Creamery is known for their 100% All Natural Premium Cheddar Cheese Curds. They were officially proclaimed the "Cheese Curd Capital of Wisconsin" by Governor Anthony S. Earl in 1984. In June of 2011, they purchased Blaser's Premium Cheeses, located in Comstock. While the Ellsworth facility manufactures cheddar cheese curds exclusively, the Comstock facility manufactures naturally flavored cheeses under the Blaser's, Antonella, Ellsworth Valley rBST-free cheese, Kammerude, and Golden Age labels.
"This nomination speaks to the great effort that's put forth by so many people, from our cooperative members on the farms to our employees at our Ellsworth and Comstock plants," says Paul Bauer, CEO/Manager. "As we've been focusing our efforts on transitioning our operation from a commodity-based production facility to a value-added consumer brand, this recognition is especially rewarding," adds Bauer.
The annual MOTY Awards Program is co-sponsored by the accounting and advisory firm of Baker Tilly Virchow Krause, LLP, the law firm of Michael Best & Friedrich LLP, and the business association Wisconsin Manufacturers & Commerce. The sponsors will celebrate the nominees and reveal the winners at a ceremony February 26, 2015, at The Pfister Hotel in Milwaukee. For additional information about the Wisconsin Manufacturer of the Year Awards program, visit www.wimoty.com.