Introducing New Cheese Flavors!
September 4, 2014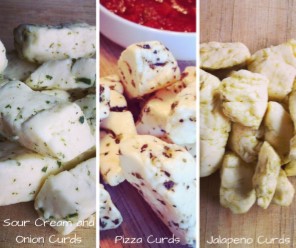 We put out the call and you answered! Thank you to everyone who took on the role of taste-tester, sampling 13 test curd flavors and 5 test cheese flavors this summer. Based on your feedback, we're introducing three new cheeses to our Ellsworth Valley line and three new Ellsworth Cheese Curd flavors.
The Ellsworth Valley cheeses are already available in our Ellsworth and Comstock retail stores, with the new cheese curd flavors rolling out soon. Keep your eye to our Facebook page for the latest updates.
Ellsworth Valley Buffalo Wing Jack: The goodness of buffalo wings all wrapped up in a yummy cheese. From grilled chicken breast to salads topped with Ranch dressing, you're gonna love this popular taste sensation!
Ellsworth Valley Habanero Ghost Pepper Jack: Some like it hot, and if that's you, you're going to love this new Jack cheese flavor. Not for delicate taste buds… this one is hot, hot, hot (but oh so good!). We found it pairs wonderfully with the smoky flavor of bacon, which is why we love it atop a bacon cheeseburger or a bacon grilled cheese.
Ellsworth Valley Garlic Gouda: A little Gouda, a little garlic; a whole lot of good-a! We're talking seriously creamy and delicious. Adds a gourmet garlicky flavor to homemade mac and cheese and casseroles, and melts down to velvety perfection, making cream-based soups extra delicious!
Pizza Cheese Curds: America's favorite Italian food packed into a cute little curd package. Try them instead of grated Parmesan in your next Italian pasta salad!
Sour Cream and Onion Cheese Curds: It's really a cheese-making marvel. The goodness of sour cream and onion potato chips without all the guilt! The perfect side to your grilled burgers, or try them as a baked potato topper.
Jalapeño Cheese Curds: Not overpowering; the perfect level of heat allowing the flavor of jalapeño to shine through.  Delicious plain, or try adding them to your next batch of nachos or Jalapeño bread!  Muy caliente!