WCCO Visits the Farm
July 15, 2014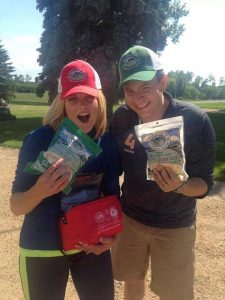 As part of WCCO-TV's Goin' to the Lake series, Jamie Yuccas and Jason Derusha headed to New Richmond, WI and paid a visit to one of our patron farms.
The Traisers Homestead Farm near Somerset, WI, hosted the WCCO crew and gave them a taste of what it's like to live and work on the farm. The Traisers didn't let Jamie and Jason get by with just observing; no, they put the two to work helping with the milking.
Pam Traiser did an excellent job teaching the two how to clean the udders and do the milking. Thankfully the cows were patient and forgiving; let's just say Jamie and Jason could use a little more practice.
The crew received fair pay for their hard work; Pam rewarded their efforts with Ellsworth Cheese Curds (and Ellsworth Creamery hats, too). If you missed seeing the segment, you can view the archived recording here.