The End of an Era
July 10, 2017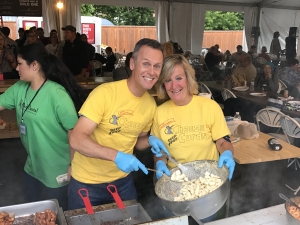 This spring cheese curd fans from across the region shed a tear when they heard the news… and the news was all over television, radio, print and social media. Dick Mueller, owner of The Original Deep Fried Cheese Curds booth at the Minnesota State Fair, announced his retirement. It was hoped that Dick could pass the business on to his son, Tom, who would continue the tradition at the fair.
It was not to be. After a diligent "Save the Curds" campaign and meetings with fair officials, it was eventually announced that The Original Deep Fried Cheese Curd space would be offered to another fair vendor.
If you've ever attended the Minnesota State Fair, then chances are you've visited The Original Deep Fried Cheese Curds booth. Dick and his family were the first to introduce deep fried cheese curds to the event back in 1975. For 39 out of their 42 years at the fair, they proudly served their loyal customers none other than Ellsworth Cooperative Creamery's cheese curds!
Considering we only began making cheese curds in 1968, this was significant. Our curds were still in their infancy, so you can imagine that being at the Minnesota State Fair was a pretty big deal to us in those days.
This development marked the end of a cheese curd era at the Great Minnesota Get Together. But we couldn't let the story end this way…
The State Fair Board's final decision was announced the week prior to our annual Cheese Curd Festival. We invited the Muellers to join us at the festival grounds so we could acknowledge them for their hard work and advocacy on behalf of our cheese curds.
On the evening of Friday, June 23, we celebrated Dick and the family at Ellsworth's East End Park. Many of their extended family, friends, employees and fans made the trip.
We presented them with a certificate of appreciation to acknowledging their contributions and hard work over the years. Paul Bauer, CEO, and Joe Hines, Dick's contact these many years at Ellsworth Cooperative Creamery, led the presentation. We then invited the Muellers to join our fry crew behind Cheese Curd Central, where they fried up our cheese curds as only they can — It was quite a show!